Summer is the perfect time for the pool, playgrounds and sun-filled activities. Thus, you need to protect your skin, so as your family's. Fortunately, with good sun habits, children can enjoy sunny days outside without risking their health. Just one blistering sunburn in childhood more than doubles your chances of developing melanoma later in life. And unfortunately, 54 per cent of children burn or tan in their second summer, and 22 per cent burn in their first, according to the Skin Cancer Foundation. Use SPF every day for everyone in the family.
Tips to protect your skin from the damaging sun
Wear protective clothing. If possible, wear long pants, long-sleeved shirts, and hats. Hats with wide brims not only cover your face, but they also protect other easy-to-forget spots like your ears and your scalp.
Make sunglasses your favourite accessory. Sunglasses shield your eye from UV rays that can cause eye problems, like cataracts. Pricey sunglasses don't guarantee better protection. Look for a pair that says it blocks 99% or 100% of UVB and UVA rays.
Limit your sun time, especially between 10 a.m. and 4 p.m. That's when the sun's rays are at their strongest. Plan your outdoor activities early in the morning or later in the afternoon. You can also find or create shade during those hours.
Say no to tanning. There's no such thing as a safe tan.
Give up the vitamin D excuse. Tanning isn't a safe way to get vitamin D. If you're concerned about your vitamin D levels, talk to your doctor about the sources that are best for you.
Get to know your skin. Skin cancer is easier to treat when caught early. Look for new skin markings, like moles, bumps, scaly spots, or places where your skin has changed colour. Watch moles for changes in size, texture, colour, or shape. Take note if a mole has uneven edges, differences in colour, or one half that is different than the other. You can also watch for moles, sores, or growths that continue to bleed, won't heal or look different from any other growth you may have. Talk to your doctor if you notice any of these changes.
Use sunscreen and use it right. UV rays can damage your skin in as little as 15 minutes. To protect your skin, put sunscreen on every part of your body that will be exposed to the sun at least 20 minutes before going outside, even if it's cloudy out. Sunscreen is most effective when used with other sun protection methods, like those mentioned above. When choosing a sunscreen, pick one with at least SPF 15 and that offers broad-spectrum protection from both ultraviolet A (UVA) and ultraviolet B (UVB) rays. One coat of sunscreen doesn't last all day. You need to reapply sunscreen every two hours and don't forget to put it on your hands and feet and to reapply after swimming or sweating.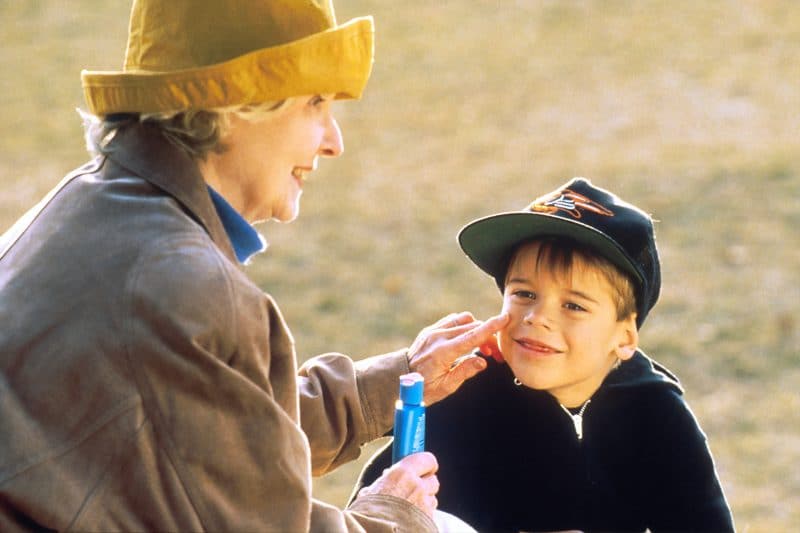 Sunscreen Tips
1. LOOK AT THE LABEL. A lot of parents assume, well, the higher the SPF, it must be better. What you really want to look for is the ingredients in your sunscreen. What we recommend is zinc oxide or titanium dioxide [These are physical sunscreen ingredients. Choose an SPF of 30 that's labelled broad-spectrum. That means it protects against both UVA and UVB rays.
Aspect sincere is a broad spectrum range protect g from both UVA and UVB sun rays with titanium dioxide and zinc oxide and an SPF 50
2. AVOID SPRAY-ON SUNSCREENS. The major drawback of an aerosol sunscreen is that it could get into the eyes or get inhaled by a child, and we really don't have the long-term data on those effects.
3. USE GENEROUS AMOUNTS ALMOST EVERYWHERE. One of the biggest mistakes parents make is number one: not applying enough sunscreen. Apply sunscreen 30 minutes before leaving the house, no matter what the weather. Even on a cloudy day, you still get 80 per cent UV exposure. Start with the neck down, make sure you cover thick and evenly on all areas of the body, not forgetting the ears, backs of the hands, crease of the neck, underarms, between the fingers, underneath the bathing suit. After you've covered those major areas, you should do the face last.
4. REMEMBER THE LIPS AND SCALP. The lips need protection as well. Another tip that I give parents is to put it in his or her part line. But one of the best ways to protect scalps is to actually purchase a hat.
5. MAKE APPLYING SUNSCREEN FUN! I like to call it your magic cream or magic lotion. Children like making it special. Don't make it a chore. One mom actually told me she uses a paintbrush and has the child paint the sunscreen on themselves. Another thing that children really like to do, is they like to apply it to you, so let them apply it on Mom or Dad. They tend to be much more receptive when you do things together and you make it a fun activity for them.
WHY WE LOVE ASPECT SUN PRODUCTS
ASPECT SUN is a collection of UVA and UVB SPF 50 and 50+ skincare to elevate your daily routine. Ultra-hydrating, lightweight and fast-absorbing for all-year-round use.
4 hours Water Resistant
Broad-spectrum UVA and UVB protection
Antioxidants protect from the ageing effects of UV exposure
Paraben-Free
Benzophenone Free
CC CREAM Combines the benefits of broad-spectrum UVA and UVB SPF 50+ protection, with the convenience of a universal colour correcting tint to help even skin tone. Achieve instant luminosity with this lightweight, multifunctional CC cream, formulated with potent antioxidants for supreme hydration. The perfect flawless result with a satin-smooth finish.
ENVIROSTAT ON THE GO SPF 50 Sunscreen Lotion with Vitamin E is a chemical sunscreen that provides broad-spectrum dry-touch protection. Suitable for facial and body use. Lightweight, non-sticky with no white residue.
HYDRATING FACE SPF 50 is a hydrating sunscreen cream which has been specially developed to provide broad-spectrum UVA and UVB SPF 50+ from the sun. Hydrating Face SPF 50+ provides a blend of antioxidants and UV protective actives to deliver very high sun protection, as well the ultimate nourishment for skins in need of more support against the ageing and damaging effects of UV exposure. The combination of UV protection and smoothing effects of silica, Hydrating Face SPF 50+ achieves an immediate even glow, preparing the skin for long-lasting makeup application.